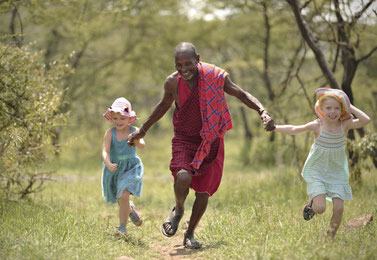 Going on a safari to Tanzania is not restricted to adults only and can be an adventure for all ages. However travelling with children requires careful planning and consideration. Not only will we offer child friendly accommodations and activitiess we shall also include  family rooms or extra beds.
This Family Safari will allow parents and/or grandparents to create memories for lifetime. 
We have selected the most child friendly accommodations for you and of course we can adjust these to your preferences and budget.
Arusha
Resting at the foot of Mount Meru, the sprawling city of Arusha is known as the safari capital of northern Tanzania. It serves as an excellent base from which to explore the remarkably scenic surrounding area which includes majestic Mount Kilimanjaro, as well as the Manyara, Tarangire and Ngorongoro National Parks. Arusha is a good spot to take a day or two off from the safari circuit as it features a temperate climate and lush surrounds. Visitors can look forward to exploring the wildlife-abundant Serengeti National Park; the magnificent Arusha National Park; and taking on the challenge of climbing Mount Meru, Africa's fifth highest mountain.
Day itinerary
Upon arrival at Kilimanjaro International airport you will be met by your private driver/guide who will bring you to Lemala Kili Villas where you will stay 2 nights. After a long journey we highly recommend to start your safari slow, especially when you travel with children. The second day is a so called resting day where you can enjoy your villa and chill at the swimming pool. 
Lemala Kili Villas are located on a private wildlife estate and offer a relaxing start or end to a safari in Tanzania. They are perfect for short or long stay and can be also taken on exclusive basis if traveling with friends and family. Located just outside Arusha, which is the gateway to some of Tanzania's best national parks.  Kili Villas also boast access to Tanzania's only championship golf course.  Each villa has five suite bedrooms, open fireplaces, complimentary Wi-Fi and private chefs to produce everything from delicious breakfasts  to refreshing  lunches, afternoon  teas and sundowner  cocktails to be enjoyed around the swimming  pool.    Dinners on the veranda are delightful using only the freshest  of produce.   Whether  for a short  stay or extended,  there  is plenty  to do ranging  from  early  morning  horse  rides,  to a round  of golf on the 18 hole  champion golfcourse,  relax at the Polo Club, take a tour of a fragrant coffee plantation in Arusha or work up a sweat hiking and canoeing around Kilimanjaro and Lake Duluti.  The Villas are located only 45 minutes from Arusha and Kilimanjaro International Airport.  For flights to Northern Tanzania, the estate has a private airstrip just 10 mins away that Coastal and others are now offering flights directly to the North from
Meal plan day 1
Bed & breakfast
Meal plan day 2
Full board
Tarangire National Park
After the Serengeti, Tarangire has the greatest concentration of wildlife in Tanzania and in the dry season the Tarangire River is a magnet for thirsty wildlife.  Large herds of elephants and migratory wildebeest, zebra, buffalo, impala, gazelle, hartebeest and eland gather and not surprisingly the predators follow.  This is also the one place in Tanzania where dry-country antelope such as oryx and gerenuk are regularly spotted.  Tarangire is also known for its spectacular baobab trees, and its breathtaking views of the Masaai Steppe and the mountains to the south. Located just a few hours drive from the town of Arusha, Tarangire is a popular stop for safaris travelling through the northern circuit on their way to Ngorongoro and the Serengeti. The park extends into two game controlled areas and the wildlife are allowed to move freely throughout.
Day Itinerary
After an early breakfast you will be picked up by your private driver/guide and your adventure will start. You will pass Arusha Town where (if you wish) can do some shopping and visit an ATM machine (it comes in handy to have some local currency). After that you will proceed to Tarangire NP where you shall arrive around noon and start your first game drive. At the end of the afternoon you will arrive at Maramboi Tented Camp. 
This is a unique opportunity to experience and explore the Tarangire and Manyara ecosystem. Maramboi Tented Camp offers permanent camp facilities and endless vistas of rolling golden grasslands and palm lined desert between Tarangire and Manyara Lake. A visit to the area is essential for anyone interested in evolution and the origins of Mankind and an explanation of the Rift Valley and Africa's big picture. It is a complete semi desert experience focusing on safari walks and game drives. 40 spacious tents built on ample wooden decks, among them there are 26 standard rooms, 10 suites and 2 units with 2 rooms interconnected, ideal for families with children. They all have en suite facilities and private veranda with 24 hours 220V electric lighting.
Meal plan
Full Board  
Karatu
Travellers heading for the Serengeti and Ngorongoro Crater will inevitably pass through the town of Karatu in the green hills of Tanzania's northern highlands. Presided over by the towering Ol Deani Volcano, this small, colourful town serves as a popular overnight stop for visitors exploring the area's many game parks. The town offers a variety of activities including browsing the bustling marketplace, sampling beer at a local brewery, visiting a traditional Iraqw homestead, or taking a guided walk through the Ngorongoro Forest in search of waterfalls and elephants caves. Whether you are looking for cultural tours, hiking and biking opportunities, a chance to enjoy an authentic rural Tanzania experience, or simply a break between safari game drives, this underrated town has plenty to offer. 
Day Itinerary
In the early morning you will leave Maramboi Tented Camp and enjoy a morning game drive in Tarangire NP.  At around lunchtime you will leave the park and proceed to Karatu for overnight stay at Plantation Lodge.
The Plantation Lodge's location offers maximum safari enjoyment to visitors. It is situated close to the entrance of the Ngorongoro Conservation Area and the Lake Manyara National Park, and just a short journey away from the Tarangire National Park and the Serengeti. The lodge features individually furnished rooms and suites, as well as all amenities for a comfortably relaxed vacation. Guest accommodations range from luxurious suites to stylish standard rooms and a spacious garden house. 
Meal plan
Full Board 
In the early morning, after taking tea & coffee in camp, you proceed driving with your driver/guide into the surrounding hills ridges in search of a Hadzabe encampment; arriving at their last known site of camp you proceed after them on foot. Upon meeting them you are introduced to the camp members. Visit their tiny huts, follow the women on a gathering foray and see how roots are dug, mice are caught and berries and Baobab fruit are gathered and prepared,  or follow the men on a hunt, led in the wildlife rich woodland between towering Baobabs and acacias. The men are armed with long bows with poison tipped arrows, which you can see produced in the village and honey axes. If successful on the hunt, or finding a beehive, you will be offered to share their meal, a small antelope, a Francolin or Guinea fowl as luck dictates that day. Return to your Camp for lunch. In the afternoon Set out and visit a Datoga community and learn about their traditional pastoral way of life. The women still wear leather dresses, traditional jewelry and distinctive facial scarification, and the men armed with spears tend to their vast herds. Visit the traditional homesteads and experience their way of life and time permitting pass by the traditional Datoga black smith, that still resides in the area. In the afternoon return to The Plantation Lodge.
Meal plan
Full Board  
Central Serengeti
Situated in the heart of Tanzania, the Central Serengeti encompasses the world-famous Seronera Valley which is known for its prime wildlife-viewing opportunities. This picture-perfect landscape is characterised by endless stretches of savannah-covered open plains, interspersed by rocky outcrops of granite, scattered with acacia woodlands and covered in a network of rivers and streams. The Central Serengeti forms part of the great wildebeest and zebra migration and provides an ideal habitat for a variety of wildlife such as giraffe, impala, waterbuck, hippo, elephant, buffalo, lion, leopard, hyena, jackal, serval and much more. Popular activities include: game viewing, cultural tours, horse riding safaris, and hot air ballooning over the spectacularly scenic terrain.
Day Itinerary
Today you will visit the famous Ngorongoro Crater. After a maximum allowed stay on the crater floor of 6 hours you will start your journey to amazing Serengeti NP where you shall arrive in the early evening at Kubu Kubu Tented Lodge. You will spend 2 nights at this beautiful camp and together with your driver/guide you will make a plan when and how often you would like to do game drives in Serengeti National Park. 
Kubu Kubu Tented Camp, is an exciting new addition to Tanganyika Wilderness Camps' collection of luxury safari accommodation. With a  modern African appearance, creating a fresh, sleek, yet comfortable ambiance. Situated in the stunning central part of the Serengeti, the camp will be strategically positioned in one of the main migration areas so that guests can enjoy this awesome natural wonder from the comfort of their tents. There will be 25 spacious en-suite tents which will offer absolute comfort, exclusivity and a genuine African bush experience. In the central restaurant guests will be able to enjoy exceptional food and wines, and the cozy lounge area has been creatively designed to give an atmosphere of intimacy and exclusivity. There will also be a swimming pool in which to relax after a long game drive. Internet access will be available in the camp with Wifi in the central area. Accommodation will be on a full board basis.
Meal plan
Full board
Drinks (Local Brands) Included
Dongwe
Located only an hour's drive from Stone Town, near the village of Paje on the beautiful eastern coast of Zanzibar, the seaside resort town of Dongwe features endless white-sand beaches meeting crystal- clear azure waters. Travellers from around the globe flock to this little corner of paradise for the quintessential beach-island getaway. Dongwe is encircled by lush tropical vegetation with an offshore coral reef teeming with colourful tropical fish and an array of other marine life. It boasts a wide selection of wonderful fully-equipped beachside resorts. Visitors can look forward to a variety of activities including: swimming with wild dolphins, enjoying fascinating forest excursions, and sampling delicious local cuisine, which known for its variety of aromatic spices.
Day Itinerary
Your safari adventure has come to an end. Today you will be transferred to the nearby Seronera Airstrip to connect with your domestic scheduled flight to Zanzibar Island. Upon arrival you will be met by a representative of Island Express who shall bring you to Breezes Beach Club where you will spend some very relaxing days.
For centuries the island of Zanzibar has evoked a mystical and magical dream.  With the distinct advantage of being located on the South East coast which is the one of the most quiet and untouched parts of the Island, Breezes is the ultimate retreat for those looking to get away from it all.  This beautiful resort is situated along a pristine, untouched beach stretching as far as the eye can see. With great attention to detail, unique charm, personalized service and warm hospitality. Breezes Beach Club & Spa is set in beautiful tropical landscaped gardens on a pristine and peaceful beach on the East Coast of the island, about one hour from Stone Town. Breezes is famous for its attention to detail, intimate and private dining, its world-renowned beautiful Zanzibar décor with stunning carvings, glistening brass and rich fabrics creating an elegant and unique atmosphere. In 2005, Breezes Beach Club won the title of "Best Resort in Tanzania" at the World Travel Awards.   
Meal plan
Full board
All good things come to an end. Today you can still enjoy a day room at Breezes Beach Club. At the end of the afternoon you will be transferred to Zanzibar International Airport for your domestic scheduled flight to Dar es Salaam to connect with your international flight back home.