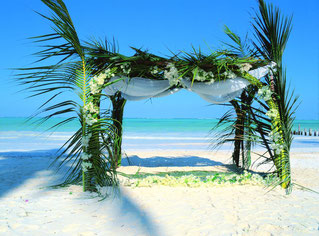 Looking for an unforgettable and adventurous honeymoon? Stop searching because this Tanzania - Zanzibar trip will not only be super romantic, it will be unforgettable!
This private safari leads you to  the most beautiful game parks in Tanzania and ends with  a few romantic days on the
pearly white beaches of Zanzibar Island.
This trip is perfect for newly weds and of course we can adjust the proposed accommodations to your preferences and budget.
Arusha
Resting at the foot of Mount Meru, the sprawling city of Arusha is known as the safari capital of northern Tanzania. It serves as an excellent base from which to explore the remarkably scenic surrounding area which includes majestic Mount Kilimanjaro, as well as the Manyara, Tarangire and Ngorongoro National Parks. Arusha is a good spot to take a day or two off from the safari circuit as it features a temperate climate and lush surrounds. Visitors can look forward to exploring the wildlife-abundant Serengeti National Park; the magnificent Arusha National Park; and taking on the challenge of climbing Mount Meru, Africa's fifth highest mountain.
Day itinerary
Upon arrival at Kilimanjaro International airport you will be met by your private driver/guide who will bring you to Katambuga House where you will stay 2 nights. Your second day is meant to relax and unwind after all your wedding excitements.
Newly opened in 2017, Katambuga house is an intimate 6 room lodge situated close to Arusha Airport with sweeping views of Mount Meru and expansive coffee estates. The main house, with a cozy main area, adorned by a selection of original photography and art, offers 4 rooms; and the family cottage an additional two interconnecting rooms. All the 6 en-suite rooms are very spacious and airy, and offer all modern amenities. Gourmet meals are served to guests daily from the restaurant, and are enjoyed in the main room, on the large veranda or the pool deck. Located 5 minutes drive from Arusha airport; the lodge enjoys a tranquil setting as its grounds open to the Mringa Coffee Estate and offers unobstructed views of Mount Meru and expansive coffee fields.
Meal plan day 1
Bed & breakfast
Meal plan day 2
Full board
Tarangire National Park
After the Serengeti, Tarangire has the greatest concentration of wildlife in Tanzania and in the dry season the Tarangire River is a magnet for thirsty wildlife.  Large herds of elephants and migratory wildebeest, zebra, buffalo, impala, gazelle, hartebeest and eland gather and not surprisingly the predators follow.  This is also the one place in Tanzania where dry-country antelope such as oryx and gerenuk are regularly spotted.  Tarangire is also known for its spectacular baobab trees, and its breathtaking views of the Masaai Steppe and the mountains to the south.
Located just a few hours drive from the town of Arusha, Tarangire is a popular stop for safaris travelling through the northern circuit on their way to Ngorongoro and the Serengeti. The park extends into two game controlled areas and the wildlife are allowed to move freely throughout.
Day Itinerary
After an early breakfast you will be picked up by your private driver/guide and your adventure will start. You will pass Arusha Town where (if you wish) can do some shopping and visit an ATM machine (it comes in handy to have some local currency). After that you will proceed to Tarangire NP where you shall arrive around noon and start your first game drive. At the end of the afternoon you will arrive at Oliver's Camp where you will stay 2 nights. Together with your driver/guide you will make a plan when and how often you would like to go on game drives in Tarangire National Park.
Discover Africa, just as it should be. Oliver's Camp – in the remote southern reaches of Tarangire National Park – has just 10 beautifully appointed safari tents in a spectacular location close to the game-dense Silale Swamps and overlooking a flood plain of the Minyonyo Pools. Oliver's was inspired by the trailblazing camps that pioneered the early days of safari. It gives you direct access to the dense concentration of wildlife you will find year-round in this remote region, as well as the chance to enjoy walking safaris and fly camping. Oliver's is intimate and personal, staffed by a world-class team that has worked together for many years to perfect a safari experience that guests consistently rank among their best.
Meal plan
Full Board 
Drinks (Local Brands) Included
Ngorongoro Conservation Area
Situated in the Crater Highlands in Northern Tanzania, the Ngorongoro Conservation Area is best known for its archaeological and geological significance, rich wildlife, and beautiful scenery. The conservation area encompasses the famous Crater, the renowned Olduvai Gorge and vast plains of grasslands, forests and mountains extending to the Serengeti. This 8000-square-kilometre protected area is recognised for its natural beauty and has been placed on the UNESCO World Heritage List. Visitors flock here to soak up the spectacular views of the Ngorongoro Crater, voted as one of the Seven Natural Wonders of Africa, it is famed for its natural beauty and abundant wildlife. Popular activities include: mountain biking, hiking, game drives, bush walks, and visiting a local Maasai village. 
Day Itinerary
In the early morning you will leave Oliver's Camp and enjoy a morning game drive in Tarangire NP.  At around lunchtime you will leave the park and proceed to  The Highlands Ngorongoro where you shall spend two nights. On day 6 you will visit the famous Ngorongoro Crater.
The Highlands redefines the Ngorongoro experience. Set on the edge of the mountain forest hugging the Olmoti volcano to the north of Ngorongoro Crater, The Highlands strikes a perfect balance between a true wilderness experience and a high-style, contemporary escape. Experience the highlands of the wild Ngorongoro Conservation Area surrounding camp, home to leopard, buffalo and elephant.  Follow ancient Maasai trails to the summit of the Olmoti crater and visit local communities to catch a glimpse into the traditional Maasai way of life that has defined this corner of East Africa for centuries. The famous Ngorongoro Crater is easily accessible from camp, while the setting ensures maximum privacy, a rich adventure and a range of activities not possible elsewhere in Ngorongoro.
Meal plan
Full Board 
Drinks (Local Brands) Included
Central Serengeti
Situated in the heart of Tanzania, the Central Serengeti encompasses the world-famous Seronera Valley which is known for its prime wildlife-viewing opportunities. This picture-perfect landscape is characterised by endless stretches of savannah-covered open plains, interspersed by rocky outcrops of granite, scattered with acacia woodlands and covered in a network of rivers and streams. The Central Serengeti forms part of the great wildebeest and zebra migration and provides an ideal habitat for a variety of wildlife such as giraffe, impala, waterbuck, hippo, elephant, buffalo, lion, leopard, hyena, jackal, serval and much more. Popular activities include: game viewing, cultural tours, horse riding safaris, and hot air ballooning over the spectacularly scenic terrain.
Day Itinerary
Today you will visit the famous Ngorongoro Crater. After a maximum allowed stay on the crater floor of 6 hours you will start your journey to amazing Serengeti NP where you shall arrive in the early evening at Namiri Plains Camp. You will spend 3 nights at this beautiful camp and together with your driver/guide you will make a plan when and how often you would like to do game drives in Serengeti National Park. On day 10 you will be brought to Seronera Airstrip to connect with your domestic scheduled flight to Zanzibar Island.
For 20 years, the grasslands of the Eastern Serengeti were closed to tourists to allow the cheetah population to replenish itself. Today, this is big-cat territory, where cheetah roam the area in pursuit of prey, and lion and leopard hunt undisturbed. In 2014, the region reopened with Asilia appointed as its custodian. Guests can enjoy this incredible corner of the Serengeti from the comfort of cool and elegant Namiri Plains. Expansive views, serious comfort, exceptional privacy and unrivalled sightings of apex predators in a region of the Serengeti come together to give you an exclusive and action-packed safari experience. 
Meal plan
Full board
Drinks (Local Brands) Included
Matemwe 
Sandwiched between tropical greenery and the warm azure waters of the Indian Ocean, remote Matemwe beach is arguably the most enchanting of all the beaches in Zanzibar. Located on the last stretch of sand before the beaches give way to rugged cliffs on the uninhabited north-east coast of the island, Matemwe offers an unspoiled natural landscape, perfect for a relaxing tropical beach holiday. With its lovely shallow lagoon and the coral gardens of the renowned Mnemba Atoll resting just off the coast, Matemwe boasts some of Africa's most impressive diving and snorkelling sites where you can marvel at the abundance of exotic marine life including colourful reef fish, turtles and many species of dolphin. Above water, visitors can experience a local fishing trip on a traditional dhow, visit nearby markets and villages, or simply kick back under a palm tree and unwind, far from the stresses of the modern world.
Day Itinerary
Your safari adventure has come to an end. Today you will be transferred to the nearby Seronera Airstrip to connect with your domestic scheduled flight to Zanzibar Island. Upon arrival you will be met by a representative of Island Express who shall bring you to Matemwe Retreat where you will spend some very romantic and relaxing days at Matemwe Retreat.
Enjoy your own private tropical escape at Matemwe Retreat. The four elegant villas that make up the Retreat are set high in the palm trees with uninterrupted Indian Ocean views. With its secluded location and dedicated private butler, the Retreat is considered one of the most exclusive choices of accommodation on Zanzibar Island. If you are looking for pure escapism, these villas – which combine the spirit of Zanzibar with the highest standards of comfort – were designed for you. The private plunge pool, personal bar and spacious roof terrace with day bed and loungers are so appealing that we would not blame you if you relaxed in your hidden sanctuary for your entire holiday.
Meal plan
Full board
Drinks (Local Brands) Included
Private butler service
All good things come to an end. Today you can still enjoy a day room at Matemwe Retreat.. At the end of the afternoon you will be transferred to Zanzibar International Airport for your domestic scheduled flight to Dar es Salaam to connect with your international flight back home.