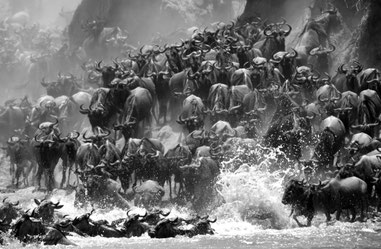 If you think of a safari then the first thing that comes to mind is probably The Big 5. With the below itinerary you have a great chance to spot them all 5, but of course we can not give a guarantee because nature can not be forced.
This trip is suitable for everyone, young and old and of course we can adjust the proposed accommodations to your preferences and budget.
Arusha
Resting at the foot of Mount Meru, the sprawling city of Arusha is known as the safari capital of northern Tanzania. It serves as an excellent base from which to explore the remarkably scenic surrounding area which includes majestic Mount Kilimanjaro, as well as the Manyara, Tarangire and Ngorongoro National Parks. Arusha is a good spot to take a day or two off from the safari circuit as it features a temperate climate and lush surrounds. Visitors can look forward to exploring the wildlife-abundant Serengeti National Park; the magnificent Arusha National Park; and taking on the challenge of climbing Mount Meru, Africa's fifth highest mountain.
Day itinerary
Upon arrival at Kilimanjaro International airport you will be met by your private driver/guide who will bring you to Kigongoni Lodge for overnight stay.
Kigongoni Lodge is located on an historic 70 acre coffee farm near Arusha, amid natural forest. Situated on a hilltop with lush gardens, the lodge offers breathtaking views of Mount Kilimanjaro and Mount Meru. Tucked between the trees are eighteen cottages, built in traditional African style with local materials. The rooms, cocktail lounge and restaurant all with fireplaces, are furnished in an intimate and comfortable manner, maximizing the site's unique views and natural features.
Standard Double room
With a terrace and a balcony, this cottage comes with a seating area with a fireplace. The private bathroom is equipped with free toiletries
Meal plan
Bed & breakfast
Tarangire National Park
After the Serengeti, Tarangire has the greatest concentration of wildlife in Tanzania and in the dry season the Tarangire River is a magnet for thirsty wildlife.  Large herds of elephants and migratory wildebeest, zebra, buffalo, impala, gazelle, hartebeest and eland gather and not surprisingly the predators follow.  This is also the one place in Tanzania where dry-country antelope such as oryx and gerenuk are regularly spotted.  Tarangire is also known for its spectacular baobab trees, and its breathtaking views of the Masaai Steppe and the mountains to the south.
Located just a few hours drive from the town of Arusha, Tarangire is a popular stop for safaris travelling through the northern circuit on their way to Ngorongoro and the Serengeti. The park extends into two game controlled areas and the wildlife are allowed to move freely throughout.
Day Itinerary
After an early breakfast you will be picked up by your private driver/guide and your adventure will start. You will pass Arusha Town where (if you wish) can do some shopping and visit an ATM machine (it comes in handy to have some local currency). After that you will proceed to Tarangire NP where you shall arrive around noon and start your first game drive. At the end of the afternoon you will arrive at Maramboi Tented Lodge for overnight stay.
This is a unique opportunity to experience and explore the Tarangire and Manyara ecosystem. Maramboi Tented Camp offers permanent camp facilities and endless vistas of rolling golden grasslands and palm lined desert between Tarangire and Manyara Lake. A visit to the area is essential for anyone interested in evolution and the origins of Mankind and an explanation of the Rift Valley and Africa's big picture. It is a complete semi desert experience focusing on safari walks and game drives. 40 spacious tents built on ample wooden decks, among them there are 26 standard rooms, 10 suites and 2 units with 2 rooms interconnected, ideal for families with children. They all have en suite facilities and private veranda with 24 hours 220V electric lighting.
Meal plan
Full board
Karatu
Travellers heading for the Serengeti and Ngorongoro Crater will inevitably pass through the town of Karatu in the green hills of Tanzania's northern highlands. Presided over by the towering Ol Deani Volcano, this small, colourful town serves as a popular overnight stop for visitors exploring the area's many game parks. The town offers a variety of activities including browsing the bustling marketplace, sampling beer at a local brewery, visiting a traditional Iraqw homestead, or taking a guided walk through the Ngorongoro Forest in search of waterfalls and elephants caves. Whether you are looking for cultural tours, hiking and biking opportunities, a chance to enjoy an authentic rural Tanzania experience, or simply a break between safari game drives, this underrated town has plenty to offer. 
Day Itinerary
In the early morning you will leave Maramboi Tented Camp and enjoy a morning game drive in Tarangire NP.  At around lunchtime you will leave the park and proceed to Karatu for overnight stay at Tloma Mountain Lodge.
Tloma Lodge has been built on the foothills of the highlands of Ngorongoro, a small and exclusive lodge with 24 small cottages built in colonial style and 12 rooms overlooking the garden in the main building. The design of the entire complex looks to create an atmosphere evoking the colonial plantations and farms described in many books and films. The excellent location of Tloma on the top of a valley offers fantastic views over a coffee plantation and the walls of the Ngorongoro cráter which can be enjoyed from the private terraces of the rooms. The gardens, full of flowers and bushes, are particularly attractive, although guests find it difficult to choose between a walk around the gardens or relax around the heated pool.
Meal plan
Full board
Central Serengeti
Situated in the heart of Tanzania, the Central Serengeti encompasses the world-famous Seronera Valley which is known for its prime wildlife-viewing opportunities. This picture-perfect landscape is characterised by endless stretches of savannah-covered open plains, interspersed by rocky outcrops of granite, scattered with acacia woodlands and covered in a network of rivers and streams. The Central Serengeti forms part of the great wildebeest and zebra migration and provides an ideal habitat for a variety of wildlife such as giraffe, impala, waterbuck, hippo, elephant, buffalo, lion, leopard, hyena, jackal, serval and much more. Popular activities include: game viewing, cultural tours, horse riding safaris, and hot air ballooning over the spectacularly scenic terrain.
Day Itinerary
Today you will visit the famous Ngorongoro Crater. After a maximum allowed stay on the crater floor of 6 hours you will start your journey to amazing Serengeti NP where you shall arrive in the early evening at Kubu Kubu Tented Lodge. You will spend 3 nights at this beautiful tented lodge and together with your driver/guide you will make a plan when and how often you would like to do game drives in Serengeti National Park.
Kubu Kubu is the latest addition to the portfolio of properties of Tanganyika Wilderness Camps. This camp is strategically located to ensure that all areas of the Serengeti are within reach of our guests, including legendary locations like the famous Maasai kopjes, the Museum of Olduvai Gorge, Seronera and the Grumeti River. It has been designed with a modern African decorative style that creates a fresh and bright atmosphere, but very cozy and with the right amount of luxury. Guests can attend to the show of the Great Migration from the comfort of their tents.
Meal plan
Full board
Day Itinerary
Your safari adventure has almost come to an end. After breakfast you will start your journey back to Arusha. On your way you will automatically do a game drive. At the end of the afternoon you will be back at Kigongoni Lodge where you have started your adventure and whilst sipping on a nice sundowner you can process all the impressions of the past week.
Meal plan
Full board
All good things come to an end. Today you can still enjoy a day room at Kigongoni Lodge. At the end of the afternoon you will be picked up by your personal driver / guide who will take you to Kilimanjaro International Airport for your flight back home.